Köln 28. Januar 2020
Wir freuen uns auf einen Teamcommunityday bei Microsoft im Kölner Office! Hier werden wir drei fantastische Sessions lokal hören können und am globalen Teamscommunityday teilnehmen! Meldet euch an:
             Agenda für Köln -> LINK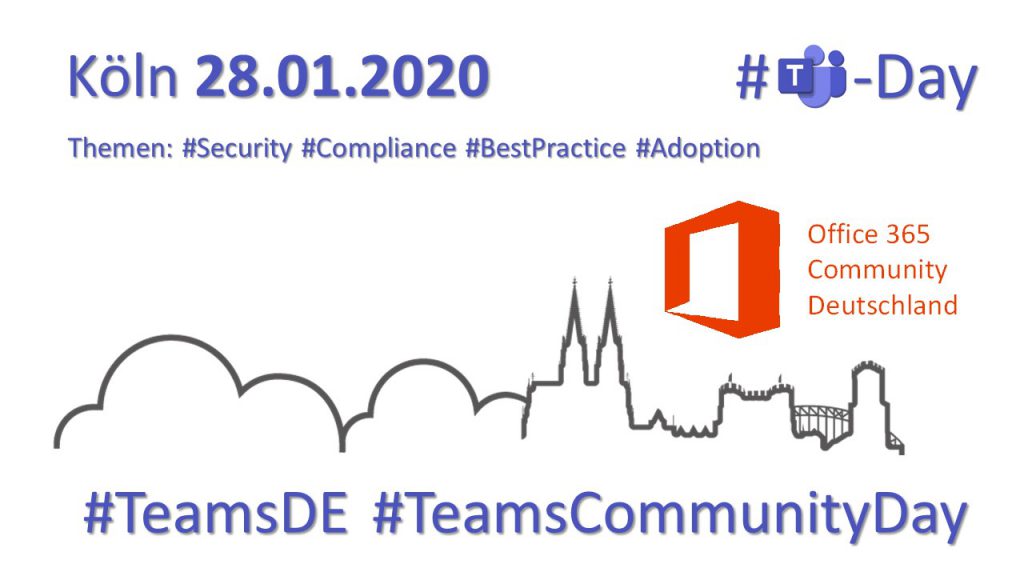 Anmeldung
https://www.meetup.com/de-DE/Office-365-Meetup/events/266727966/
Standort:
Microsoft Office Köln, Am Holzmarkt 2a, 50676 Köln
lokale Themen
Compliance and Security
BestPractices – Collaboration 2.0
5 workhacks to raise Teams (Adoption)
18:00
Eintreffen der TeilnehmerInnen
alle
18:30
Beginn Begrüßung (alle Standorte) und Keynote aus Köln (Hauptstandort) 
Raphael Köllner per Microsoft Teams Call / Moderation
19:15

Pause

 
19:20

Protect your data in Microsoft Teams (Security & Compliance)

Raphael Köllner
20:05
PAUSE und Catering
 
20:30

Raum 1:

Collaboration 2.0: Microsoft Teams Best Practices

mit Nicole Enders

Raum 2: 5

Workhacks to raise TEAMS adoption to a new level

mit Michael Roth

21:25
Pause

21:30
Abschluss und Endnote

alle per Microsoft Teams Call

Moderation: Raphael Köllner

21:55
Ende
Verlassen des Microsoft Office

Sessions & Sprecher
Speaker: Nicole Enders (CONET) – Autorin "SharePoint für Anwender" und "Collaboration mit Office 365
Collaboration 2.0: Microsoft Teams Best Practices
Microsoft Teams ist ein wichtiges Mitglied der Collaboration-Familie von Office 365 und bietet eine Vielzahl an Möglichkeiten, um die Zusammenarbeit von Teams und Gruppen zu unterstützen. In dieser Session sprechen wir in einem interaktiven Format über Best Practices und Tipps, um mit mehr Spaß die täglichen Aufgaben im Team anzugehen.
Folgende Themen sind zu erwarten:
– Modern Workplace, Collaboration und Teamwork
– Einfühung in Microsoft Teams
– Live Demo verschiedener Use Cases Microsoft Teams in Kombination mit anderen Office-365-Diensten
– Yammer vs. Teams: Wann setze ich welches Tool ein?  
Speaker: Michael Roth (devoteam alegri), Adoption Spezialist, internationaler Sprecher
————————————————-
5 workhacks to raise TEAMS adoption to a new level
Innovative ways of working together that promote employee motivation and brings the team closer together: with little effort, of course, but with maximum benefit. Worhacks sound exciting and they are.

Workhacks? Something like shortcuts? Not at all. Workhacks are minimal changes in the daily work routine that bring maximum benefit. The key word for modern work is collaboration.

Microsoft TEAMS is the hub for collaboration. A lot is possible, but a lot of potential is still unused. So let's bring those two together.

For everyone who wants to raise TEAMS adoption to a new level, for everyone who is still looking for inspiration to use teams, to make the work of their own department more agile, leaner and more attractive, Michael presents the five best workhacks with Microsoft TEAMS in this session.

An extra bonus of boosting user adoption with workhacks: users get to know – and love – smart functionalities of TEAMS while experimenting with fun new ways of collaborating.

Top three benefits of attending Michaels Session. You will learn…

1. …a fun way of boosting user adoption of TEAMS
2. …exciting tricks on how to experience fresh wind in your own cooperation
3. …that not every change is long and costly.
———————————————————————
Sprecher: Raphael Köllner
(MVP, Microsoft Regional Director, internationaler Sprecher, Compliance Spezialist, externer Datenschutzbeauftragter)
Protect your data in Microsoft Teams (Security & Compliance)
Erfahrt in dieser Session, wie ihr mit den erweiterten Sicherheitsfunktionen von Microsoft Teams diese Umgebung absichern könnt. Hierbei könnt ihr Richtlinien zum Schutz Ihrer Informationen und Unternehmensdaten erstellen. Der Sprecher zeigt euch die neuesten Funktionen, die eine sichere Zusammenarbeit ermöglichen und gleichzeitig Kunden helfen, ihre Verpflichtungen gemäß 42 nationalen, regionalen und branchenspezifischen Vorschriften zu erfüllen. Im Rahmen der Session werden nach der Architektur und einem Überblick auf einzelne Werkzeug eingegangen. Letztendlich werden die Neuerungen der Ignite und der vergangenen Wochen vorgestellt.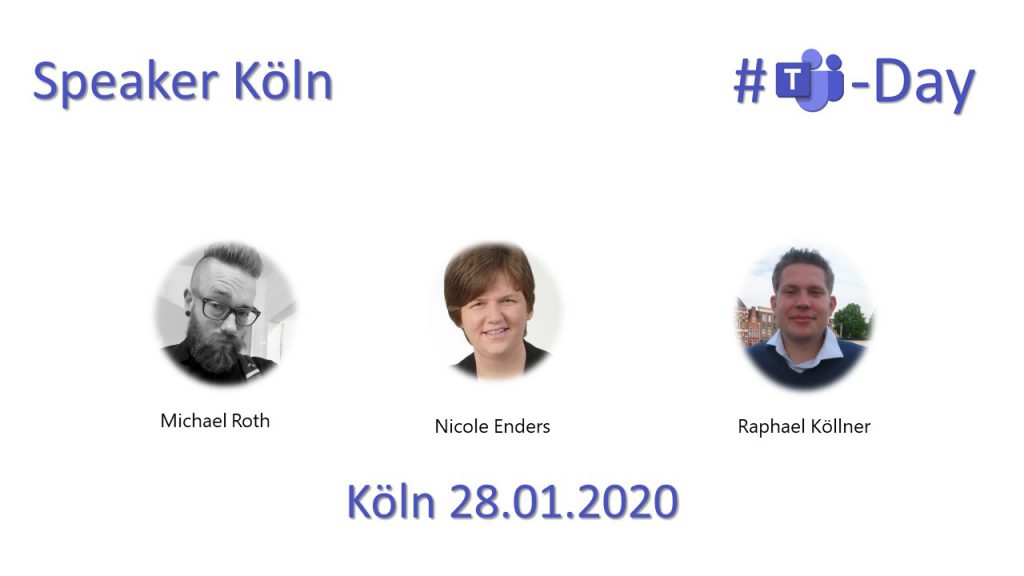 ———————————————————
Organisationsteam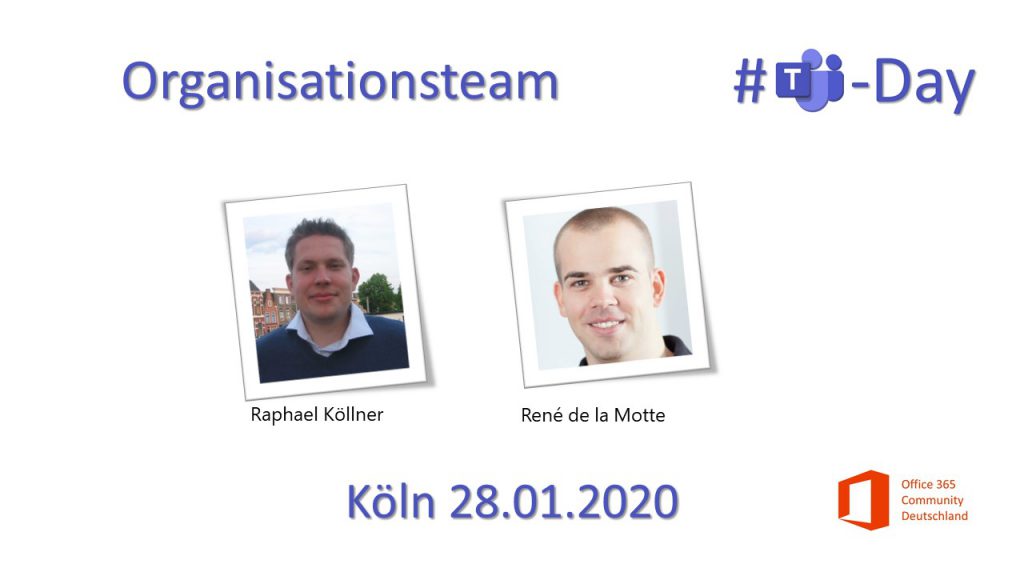 Usergroup
Office 365 Community Deutschland